December 11, 2016 – Of Sandhill Cranes, Holiday Plants and Factory Farm Justice

So just why did 30,000 sandhill cranes decide to fly directly over the City of Chicago this week? We'll explore that with ornithologist and avian biologist Steve Bailey from the Illinois Natural History Survey. Jean Bragdon from Lurvey Garden Center in Des Plaines has advice on keeping holiday plants happy and healthy. Then we tell the tale of "a great day" in court, as The Fourth District Appellate Court reverses criminal contempt charges against two Illinois factory farm activists–including friend of the show Karen Hudson.
Look! Up in the sky…it's a bird…it's a plane…no, it's a LOT of birds!
If you were outside this past Wednesday, you may have heard a rather loud rattling and trilling sound in the sky, coming from thousands of large birds flying in circular formations over the Chicago area. Those migrating birds were Greater Sandhill Cranes, and by some estimates, up to 30,000 cranes flew through our area this week on their way to their wintering areas. Birders say a few critically endangered whooping cranes were also spotted in the migrating crowd.
Well, these birds caused quite a sensation in social media this week, and we wanted to find out why so many flew directly over downtown Chicago in early December. Local avian biologist and ornithologist Steve Bailey of the Illinois Natural History Survey joins us this morning to talk about these majestic birds, their population numbers and how their annual migration patterns may be changing.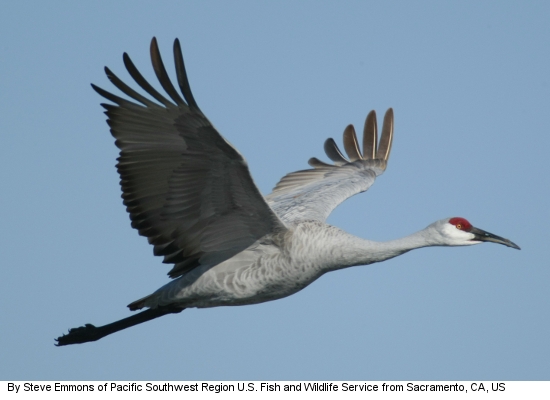 There are 15 species of cranes in the world, and the Greater Sandhill is the most commonly seen in the Midwest. The so-named Eastern Population migrates through northeastern Illinois in spring and fall as they move to and from nesting areas in Michigan, Wisconsin, Minnesota and southern Canada. Most of the birds that came through Chicago this week were on their way to a short stopover at Indiana's Jasper-Pulaski Fish and Wildlife Area and other nearby marshes. From there, they'll head to wetlands in central Florida, Georgia and eastern Tennessee, although some will stick around in Indiana and shiver through the season. Until recently, large groups of Sandhills were a rare sight in Chicago. In 1989, they were listed as an Illinois endangered species and upgraded to "threatened" in 1999. Thanks to conservation efforts and wetland restorations since the 1970s (due in part to the Clean Water Act), populations have increased dramatically, and the birds were "delisted" in Illinois in 2009.
Steve says that he and his wife Sheryl DeVore co-authored, "Birds of Illinois," which is still in print. He also collaborated with his wife on another book, "Birding Illinois." He writes:
I also co-authored a more recent book on changes of bird populations throughout the state, after replicating a one hundred year, statewide bird survey (replicated every 50 years… we did the 3rd replication over three summers of surveying between 2007-2009!). This type of long-term survey had really never been done in the U.S. before. We actually went back to the exact (or as close as we could get) locations that were surveyed 50 and 100 years earlier! Anyway, the name of the book is appropriately, "Illinois Birds: A Century of Change" authored by Jeff Walk, et al. in 2010 and available through the Illinois Natural History Survey's Publication page. BTW, the Illinois Natural History Survey where I am an avian biologist (now part of the University of Illinois' main campus at Champaign/Urbana) is the oldest scientific organization in the state (older than the Field Museum AND the University of Illinois). INHS used to be its own, separate state organization and we celebrated our 150th anniversary in 2008
As a fun side note, Steve Bailey is also an expert on owls, and leads "owl prowls" at the Chicago Botanic Garden, Starved Rock State Park and local forest preserves. You can join Steve on January 20 on the Owl Prowl at Thatcher Wood, in River Forest.  If we're lucky this morning, Steve will treat us to one of his famous owl calls.
Some winter plant tips from Jean Bragdon at Lurvey Garden Center
If you haven't visited Lurvey Garden Center at 2550 Dempster Street in Des Plaines lately, you're going to be wowed by the changes they've made. For instance, just this year they opened their new Lurvey Center, complete with Lurvey Center Conservatory that features indoor plants of all types and sizes. And in the middle of winter, it's like taking a trip to a tropical destination.
And one of the biggest changes is that the garden center is now open all year round!
In fact, I stopped by a couple of weeks ago to pick up some holiday greens to create my own outdoor Christmas containers. As they say on their website, they have a complete line of personal and thoughtful gifts, fresh cut greens, wreaths, trees, roping, beautiful poinsettias, hostess gifts, mixed planters and decorative greens curated by design professionals.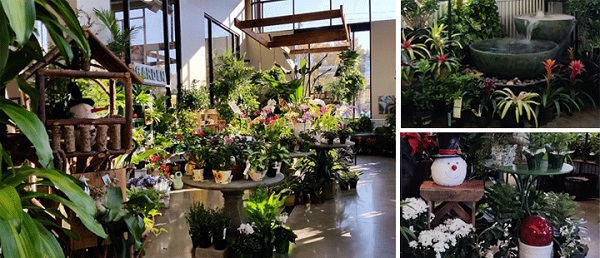 I've known Operations Manager Jean Bragdon for about a decade now, and I like where she's helping to direct the company. They recently constructed their contractor facility in Des Plaines to LEED Gold Standards and they are adopting policies to make the company and even their customers more environmentally friendly. That works for me.
Jean is on the show this morning to help you keep your plants alive and healthy this winter, whether they are your standard issue poinsettias or something a little more exotic–though some people would argue that poinsettias are pretty exotic themselves.
Give us a call with your questions this morning at 312-985-7834 or send them to The Mike Nowak Show on Facebook or @MikeNow on Twitter. And if you have a picture, too, why not send something to @themikenowakshow on Instagram!
Two and a half years later, an outrageous injustice is righted
I received a joint press release this week from Illinois Citizens for Clean Air & Water (ICCAW) and the Socially Responsible Agricultural Project (SRAP). It read, in part:
The Fourth District Appellate Court did in minutes what could not be undone in more than 2 and a half years of legal wrangling over a criminal contempt charge leveled against Illinois citizens Karen Hudson and Susan Turner.
 
Hudson and Turner are widely recognized as longstanding public educators on the issues and impacts associated with concentrated animal feeding operations (CAFOs). After a brief oral argument by their attorney Kevin Sullivan of Peoria, the three-judge panel summarily reversed the contempt finding issued in 2014 by the 7th Circuit Court. 
If you recognize the name Karen Hudson, it's because she has been on The Mike Nowak Show numerous times. As a member of both ICCAW and SRAP, she is a tireless fighter for the rights of people to protect themselves from the horrors of factory farms. In fact, she helped to set up the broadcast that Peggy Malecki and I did from the Factory Farm Summit in Green Bay, Wisconsin in September of this year.
So how did she end up with criminal contempt charges leveled at her? The easiest way for me to tell the story is to pull it directly from a book that came out in 2014, called Pig Tales: An Omnivore's Quest for Sustainable Meat by Barry Estabrook. With apologies to Mr. Estabrook (buy his book!), here's what happened:
A pork chop nearly got me thrown in jail.
I was in the second row of the spectators'  gallery at a trial in Winchester, Illinois, a county seat of 1,700 citizens. Ten residents of flat, cornfield-studded, and profoundly rural Scott County had filed a nuisance suit against the owners of a massive hog farm that kept 15,000 animals crammed into a few low, warehouse-like buildings near their homes creating foul smells and infestations of flies, the plaintiffs claimed. More than seventy townsfolk had packed into Winchester's redbrick Victorian courthouse, a grand structure that must have been built in anticipation of a prosperous future that never materialized. I had no trouble seeing where their loyalties lay. Virtually everyone sat on the plaintiffs' side, leaving empty rows of seats behind the tables of the defendants' lawyers. From the outset, Judge David Cherry of the Seventh Circuit Court of Illinois, a beefy middle-aged fellow, seemed nervous and a little out of sorts. In his opening remarks to jurors, he said that getting them selected in such a close-knit community had been the longest ordeal he'd ever been part of.
When he returned to the courtroom after the lunch recess, Judge Cherry was red-faced and made no attempt to hide his anger. "There has been a serious breach in security," he said, and ordered Karen Hudson, who had come to watch the proceedings, to approach the bench. Hudson is a veteran campaigner against factory farms and the head of an organization called Illinois Citizens for Clean Air and Water. In a brown pantsuit and with her unnaturally blond hair sprayed neatlyn place, she looked more like a Sunday-school teacher than a zealous environmental crusader. Judge Cherry held up a pamphlet put out by her group and a paperback copy of The CAFO Reader: The Tragedy of Industrial Animal Factories—an anthology of articles condemning modern confinement farms such as the one owned by the defendants. The judge informed Hudson that bringing such literature into his courtroom and sharing it could be construed as jury tampering. She stammered an apology, but that only made Judge Cherry angrier. He had the sheriff arrest her immediately. The officer clapped handcuffs on the middle-aged woman and escorted her out of court. The judge then adjourned the trial and told the legal teams to meet with him in his chambers. On the way out, he said to me, "You wait here."
A half hour later, he summoned me to his office, which was crowded with ten lawyers representing both sides in the case. He gestured to a copy of a book I had written about industrial tomato agriculture and asked if I had brought it to court. I explained that one of the plaintiffs' attorneys had requested a couple of copies and that I had waited until the noon recess to give them to the lawyer, who placed them facedown on the table. After several more questions, Judge Cherry said that he was tempted to give me the same treatment he had given Hudson, but because my misdeeds did not rise to the level of hers, he was simply going to have me removed from his courtroom.
(Read the entire excerpt here.)
But the story of what was almost a miscarriage of justice against these two women needs to be told. That's why we're pleased to have Karen Hudson back on the show this morning, along with attorney Kevin Sullivan of Peoria, who argued the contempt case in front of the Illinois Fourth District Appellate Court.