Countdown to Dig In® Chicago
March 25, 2012
My thanks to all of the folks who have sent their congratulations to me following the announcement that I will be involved in a TV gardening and cooking show called Dig In Chicago, which will premiere on April 21 at 10:00 a.m. on Comcast/Xfinity Channel 102. My co-host for the new venture, Jennifer Brennan, joined me in the studio last week, where we snapped a few photos to mark the occasion.
This week, which marks one month before the premiere of the show, we are please to say that we now have more specifics about program. It will reach approximately 1.3 million households in the Chicago area. The viewing area will stretch from the Wisconsin border to Kankakee and from DeKalb, Illinois to Michigan City, Indiana.
Of course, as a number of people have informed me, they don't have cable. Or they're on Dish Network (losers). Not to worry. If you can't watch the program as it airs live, there will be other options. Episodes will be online at MyDigInChicago.com as well as YouTube, so there will be plenty of opportunities to view our show.
Needless to say, we are psyched. As we said last week, please don't hesitate to Like us on Facebook. And, of course, please watch the show, beginning on April 21, which also features chef Dave Esau of Dave's Specialty Foods in Mount Prospect,
Introducing…the FloraTube™ (it's really a compost sock)
In July of last year, David Gravel stopped by the show to talk about Green Organics, Inc., a company that has been composting yard waste from waste companies, garden centers and landscapers since 1999. Some of our most interesting conversation took place outside of the WCPT studios after the show, when he took me to his truck to show me something he called compost socks.
They were basically a fabric filled with high quality compost (not to be confused with top soil). As he explained to me, the compost socks had various uses, including erosion control and urban gardening. You can plant right into them, either with seeds or starter plants. They can be watered or even fertilized, and the compost can be emptied and replaced when necessary.
Fast forward to last week, when Gravel showed up at Green on McLean, the community garden on my block, to unload a few of these socks, officially known as FloraTubes™, which are manufactured by Soil Control, Inc. and are filled with compost from Green Organics, Inc. As you can see in the photos on the left, we used them to frame one of our garden beds. We're not exactly sure what we want to plant in the socks, but we'll keep you posted.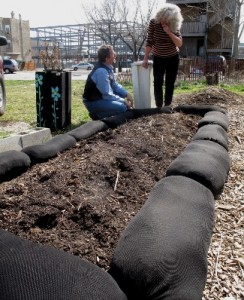 The FloraTube™, according to the website, consists of a tubular mesh material filled with with a high quality yard waste compost listed by OMRI for use in Organic production. Plants are grown in the tube material and are supplemental with irrigation and fertilizers as needed.
David Gravel stops by again today to extol the virtues of the FloraTube on today's show.
What the heck is going on this spring? Part Deux
Last week, Jennifer Brennan and I spent pretty much the whole show talking about the crazy spring weather we've experienced in the past two weeks. Before temperatures dropped off a couple of days ago, Chicagoans witnessed nine straight days of record-breaking weather.
In my own garden, I've watched almost all of my bulbs bloom and fade in a matter of days, when that usually happens over the course of a couple of months. I've never seen so many different kinds of plants–bulbs, perennials, trees and shrubs–blooming at the same time. Seriously, folks, I don't think this is healthy.
Which is why I'm continuing the discussion this week with Abigail Rea, Manager of Horticulture at the Morton Arboretum. She'll let us know the good, the bad and the impossible to predict about what has been unprecedented weather in the Midwest this late winter and early spring.
Seriously, folks, here he really is…Paul Tukey
If you caught the show last week (and if you can't listen live, you should avail yourself of The Mike Nowak Show podcasts that I post each week), you know that I thought Paul Tukey was going to be on board to talk about early season lawn care. Of course, when producer Bidalia Tejada couldn't track him down on the phone, I wondered what had happened.
Well, nothing to worry about, kids. Just a classic case of miscommunication. But there are still plenty of lawn care questions to answer, so Paul, who is the owner/operator of SafeLawns.org, will be with me this morning. I promise. That will give me another chance to plug next week's conference at the Chicago Botanic Garden called Lawn and Landscape Summit: Chicago 2012
The first day, Friday, March 30, is for lawn care professionals. The second day, Saturday, March 31 is for the rest of us, who want a green lawn but who don't want to be pumping a boat load of chemicals into the environment. The first 100 attendees each day will receive a free goody bag that includes a new book, product samples & discounts as well as information.
Even better, if you use the special code "Nowak" you get $5 off either day! Go buy a Starbuck's on me.
Meanwhile, Paul has some great advice about how to deal with your lawn in this weird weather. He put together a blog post called Your Lawn and this March Heat: 10 Do's and Don'ts, which you will probably find useful. Another post is called Consider Low Mow Grasses This Spring, which will point you in the direction of grass seed that is eco-friendly because it requires less care than "traditional" turf.
Last but not least, if you're going to have a lawn, and it's healthy and organic, you might as well play in it. To that end, Paul has a new book out called Tag, Toss & Run: 40 Classic Lawn Games. Tukey wrote this with Victoria Rowell. You might recognize herfrom her role as Drucilla Winters on CBS's highly-rated daytime series"The Young and the Restless." She has been nominated twice for a Daytime Emmy and awarded 12 NAACP Image Awards. She also co-starred in the CBS hit primetime television series "Diagnosis Murder" with Dick Van Dyke for eight seasons while simultaneously continuing her role in daytime. She also founded the Rowell Foster Children's Positive Plan (RFCPP) in 1990 and has since almost single-handedly made foster care a nationally recognized cause.
There are the classics like Capture the Flag, Croquet, Badminton, and Bocce. Then are the ones that leave you scratching your head like Cherokee Marbles, Cornhole, and Kubb. Never fear, however, Tukey and Rowell explain the games, if you don't already know how to play them. Please don't cheat and, as always, no wagering.