August 28, 2016 – Protecting Our Land, Our Water and Our Right to Play
Playing in the garden…literally!
It isn't every day that I climb on top of a five foot tall hollowed-out log and decide to sprawl out on a lawn (if you know me, you know that I'm not a huge fan of lawns). But that's a different story at the Chicago Botanic Garden's brand spanking new Regenstein Learning Campus, which opens with a couple of days of celebration on September 10 and 11, with activities taking place from 10 a.m.- 4 p.m. each day.
As the folks at CBG explain it,
The seven-acre campus is designed to serve learners of all ages, and facilitate connections between people and the environment.  The centerpiece of the Learning Campus is the new Learning Center, a 26,700 square-foot building that features 12 indoor and two outdoor classrooms, a nature laboratory, early childhood classrooms, the ITW kitchen and spaces for wellness classes. The Nature Play Garden, with its rolling hills and series of multisensory gardens, provides areas for hiding, exploring, learning and gathering.
The Learning Campus, open daily, will be the new headquarters for the Joseph Regenstein, Jr. School of the Chicago Botanic Garden, which offers 1,500 classes, day camps and programs, including a Nature Preschool, one of only two located in a botanic garden in the United States.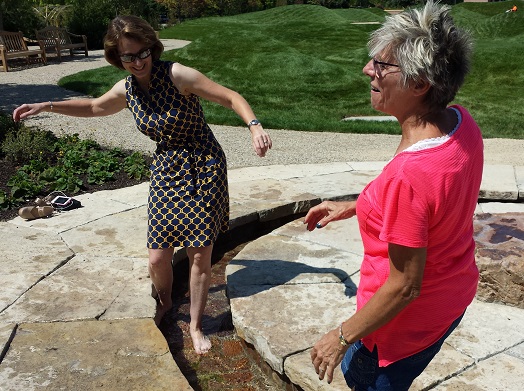 Peggy and Carol Cichorski splashing at the Regenstein Learning Campus
Peggy Malecki and I stopped by for a press preview the other day, and all you had to do is see the reaction of the kids in attendance to know who this the outdoors part of the exhibit is aimed at. I guess that includes me, too.
But indoors are classrooms that will feature all kinds of programming, including art and gardening classes, field trips and teacher professional development programs, yoga and other wellness offerings.
It's One Stop Horticultural Shopping, so to speak. Peggy and I welcome Director of Education Eileen Prendergast to The Mike Nowak Show this morning to further explain the wide range of activities that this new interactive exhibit will provide for kids young and old.
Turn Here Sweet Corn comes to the Chicago stage
Here's a tip for all of would-be farmers out there. If you're cultivating land and you can see the tallest building in the nearby large metropolitan area from your porch, you might be in trouble.  At that point, you need to pay attention to the sign, "Warning, tall buildings are closer than they appear." What I mean is that, unless you're independently wealthy, your land is likely to be gobbled up by developers and turned into suburbs
Which is exactly what happened to a woman named Atina Diffley and her family in Minnesota about 25 years ago. That would be bad enough, except that when she and her husband Martin managed to purchase another property, they were informed that Koch Industries (yes, that Koch Industries) was planning to run a crude oil pipeline straight through their organic farm.
The saga of those years of pain, uncertainty, sweat, strength and, yes, joy, love and community, were told in her book Turn Here Sweet Corn: Organic Farming Works, which garnered Diffley a 2013 Minnesota Book Award in the category of Memoir and Creative Non-fiction  from Friends Of The Saint Paul Public Library. It also made her an icon in the organic farming world. Well, that she helped to create an Organic Mitigation Plan for organic farms in Minnesota.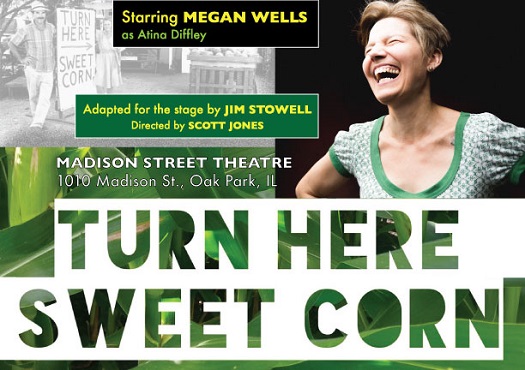 Now, that book is coming to the stage in Oak Park for four performances. Turn Here Sweet Corn, an adaptation by playwright Jim Stowell,  has its world premiere at Madison Street Theatre Thursday, September 1 through Saturday, September 3 at 8:00 pm and on Sunday, September 4 at 5:00 pm. Tickets are only $20 and you can order them here.
It features storyteller and actress Megan Wells, the 2016 recipient of the National Storytelling Network's Oracle Circle of Excellence Award, which recognizes master storytellers who set the standards for excellence and have demonstrated a commitment and dedication to the art of storytelling. The piece is directed by an old theatre colleague of mine, Scott Jones. (Please don't ask how far we go back…and to what.)
It's a pleasure to have them both in the Que4 Studio this morning to discuss the launch of this production.
The battle to keep oil in the ground and out of our waterways
I'm betting that a week ago, most of you had never heard of something called the Dakota Access pipeline (DAPL).  And that's because there hadn't been much coverage in the corporate media. Folks were getting their information from their social media connections.
Regardless, the word was getting out, and within a few days, reportedly thousands of people, mostly native Americans, had gathered in a place called Cannon Ball, North Dakota, which is near the home of the Standing Rock Sioux tribe.
Their goal: to stop construction of the Dakota Access, a $3.7 billion, 1,170-mile pipeline owned by a company called Energy Transfer Partners, with the capacity to deliver 570,000 barrels of Bakken crude oil daily from North Dakota to a refinery in southern Illinois (yay, Illinois!) It is, in fact, only nine miles shorter than the proposed Keystone XL pipeline, which was ultimately stopped by the Obama Administration.
According to an article in Raw Story,
The Army Corps of Engineers gave DAPL permission to build in late July, despite pending lawsuits and active local resistance. One of those lawsuits, filed in federal court by the Standing Rock Sioux tribes against the Army Corps of Engineers, is the one being heard in federal court in Washington, D.C. on Wednesday.
The suit claims the pipeline will cause "irreparable" damage to sacred lands at the confluence of the Cannonball and Missouri Rivers. "Industrial development of that site for the crude oil pipeline has a high potential to destroy sites eligible for listing in the National Register," according to the lawsuit. It further alleges that Dakota Access LLC failed its responsibility to adequately consult with tribes before construction, in violation of the National Historic Preservation Act. The Missouri River (Standing Rock's only water source) and "water" itself is of vital cultural importance, the suit adds.
That suit was heard last Wednesday and Federal District Judge James Boasberg announced that he would issue a ruling by Sept. 9. Knowing that an appeal will follow, no matter what he rules, there will be another hearing the following week.
Meanwhile, the situation in North Dakota has been exacerbated by the declaration of an emergency  by Gov. Jack Dalrymple, followed by the decision of North Dakota's homeland security director to remove state-owned trailers and water tanks from the protest site.
David Archambault II, who is  chairman of the Standing Rock Sioux tribe, writes:
It's a familiar story in Indian Country. This is the third time that the Sioux Nation's lands and resources have been taken without regard for tribal interests. The Sioux peoples signed treaties in 1851 and 1868. The government broke them before the ink was dry.
When the Army Corps of Engineers dammed the Missouri River in 1958, it took our riverfront forests, fruit orchards and most fertile farmland to create Lake Oahe. Now the Corps is taking our clean water and sacred places by approving this river crossing. Whether it's gold from the Black Hills or hydropower from the Missouri or oil pipelines that threaten our ancestral inheritance, the tribes have always paid the price for America's prosperity.
Meanwhile, a thousand miles to the east of Cannon Ball, N.D., lies something called the Enbridge Line 5. It is another oil pipeline, but it was built 63 years ago and it just happens to pass under the Straits of Mackinac.  In case you didn't grow up in Michigan as I did, the Straits of Mackinac connect Lake Michigan with Lake Huron. Together, and with the other three Great Lakes, they represent about 20% of the fresh water on this planet.
Now, what could possibly be the problem with a 63 year old pipeline running under one of the most sensitive fresh water sources in the world?
Do I really have to answer that?
An environmental organization called Oil & Water Don't Mix notes that nearly 23 million gallons of oil flow through two 20-inch diameter pipelines at the bottom of the straits each day. Here's what it looks like in video from the Oil & Water Don't Mix site, courtesy of the National Wildlife Federation:
Enbridge installed several support structures under the pipelines in 2006 and again in 2010, following the company's oil spill into the Kalamazoo River – the nation's largest-ever land-based oil spill. Enbridge officials have said that properly maintained pipelines can last indefinitely, but the company's history of major spills in Michigan and across North America proves otherwise. Today, much of the oil flowing through the Line 5 pipelines is coming from Canada and taking a shortcut through Michigan and the Straits of Mackinac before crossing back into Canada near Port Huron.
Yup, in the case of the Canadian-based Enbridge, Inc., the United States of America is fly-over territory, a convenient way for the company to get its product from western to eastern Canada.
Even Enbridge, however, seems to understand that pipes don't last forever. They recently agreed to pay $3.6 million to have the State of Michigan select two contractors to asses the spill risk of the Enbridge Line 5.
Oil & Water Don't Mix and their dozens of supporting groups and thousands of individual backers aren't waiting around for the results of that study.
This week, Michigan Native American tribal members and supporters of the Oil & Water Don't Mix campaign are spearheading Pipe Out Paddle Protests around Labor Day weekend in Chicago and the Straits of Mackinac.
The Mackinaw City flotilla, in its second year,  is aimed at raising awareness of the threat to the Great Lakes and native fishing grounds from potential oil spills.
Peggy and I are pleased to welcome Mitch McNeil from Surfrider Chicago, one of the supporting groups, which is sponsoring a Pipe Out Paddle Protest this Thursday, September 1 at Montrose Beach in Chicago.