August 14, 2016 – Suds for Sustainability; Fixing Chicago's Plastic Bag Mess; Building a Better Light Bulb
The 9th Annual Oak Park Micro Brew Review from
Seven Generations Ahead
Quick Question: What event features…
More than 200 kinds of beers
From 80 Micro and Craft Breweries
12 live bands
10 Restaurants and/or food trucks
The largest zero-waste craft beer fest in the Midwest!
And a ton o' fun
That all support a really good cause?
Well, if you read the headline above, you know that I'm talking about the 9th Annual Oak Park Micro Brew Review, which helps raise funds for Seven Generations Ahead. It happens in downtown Oak Park on Saturday, August 20.
Mike composts his food scraps with garden debris.
It ain't pretty but it works.
And if you wonder what Seven Generations Ahead does, here's a partial list.
As part of the Illinois Food Scrap Coalition Food Scrap Composting Challenges and Solutions in Illinois project, SGA is organizing forums across the state to discuss challenges, strategies and solutions for advancing food scrap composting in Illinois.
PlanItGreen is a collaboration among the Oak Park/River Forest Community Foundation, Seven Generations Ahead, and multiple institutions,  to implement an Environmental Sustainability Plan for Oak Park and River Forest.
Illinois Farm to School Network – a people-powered movement that seeks to teach students where food comes from and how delicious it can taste when eaten in season.
Other initiatives include Sustainable Communities, Healthy Communities, Zero Waste and Learning Forums.
You can read through all of those initiatives, but maybe the best way to support Seven Generations Ahead is to grab a brewski and some good food next Saturday! Gary Cuneen, founder and executive director, joins Peggy and me this morning on The Mike Nowak Show. It's obviously a YUGE organization, so we'll get through whatever we can in the allotted time.
Chicago's Plastic Bag Ban, Part Deux
You know that a law is probably on the "FAIL" side of the ledger when you see a headline that reads, Chicago's So-Called Plastic Bag Ban Goes Into Effect For Smaller Stores. Yikes. That story in the Chicagoist highlights how little regard many  people have for the ordinance that went into effect on August 1, 2015.
Count me as one of those people.
You see, I played a small role in the passage of the ordinance, along with Jordan Parker from Bring Your Bag Chicago–who is on the show today–and representatives from other environmental organizations.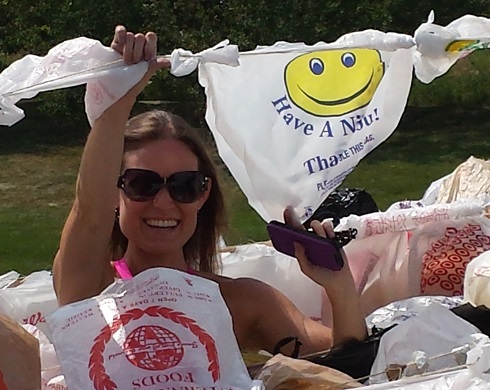 Jordan Parker and "friends."
We knew from our research that pretty much the only way that a "plastic bag ban" would work is if there were a fee attached to any bag that was given to customers. That's the argument we made to Aldermen Proco Joe Moreno and George Cardenas. However those guys were worried about it being viewed as another city tax. Remember 2015? It was an election year.
So, in their infinite wisdom, they chose NOT to assess a fee of any kind, though businesses had the option to assess a charge for any bags they provided. In addition, the new law banned single use plastic bags but allowed stores to provide reusable bags, papers bags or commercially compostable plastic bags.
The big loophole was that while single use plastic bags cannot be used, reusable plastic can be given out for free. Which means that stores simply switched to a plastic that is about four times as thick as the plastic for single use bags. What does that mean? Read and weep:
According to an example provided by the Illinois Retail Merchants Association, one independent Chicago grocer gave out 20,000 plastic bags a week before the ban. After: 10,500. (That decrease, the store reports, is less about reuse and more about fewer customers demanding double-bagging.) But because the bags are thicker, that nets out to twice as much plastic usage as before.
The other caveat was that, for the first year, the law applied only to chain stores with floor areas greater than 10,000 square feet. As of August 1, 2016, the ordinance now applies to  chain stores that are smaller than 10,000 sq. ft. By the way,  chain stores are defined as "three or more stores with common ownership" or part of a franchise. Restaurants and non-chain stores are still off the hook.
Here's the upshot. The bag ban was supposed to help people change their behavior and encourage them to bring their own bags. The evidence so far is that folks are NOT reusing the thicker plastic bags and simply accept them each time they go into a store. Heck, I could have told you that!
What we have here, folks, is a failed ordinance. My concern is that revisiting it could make things worse. Jordan Parker, who was on WTTW's Chicago Tonight program just a few days ago, joins us in studio to talk about the fallout of a badly thought-out ordinance.
Going–and Growing–On and Off the Grid
I received an email from Polly McGann recently to bring me up to speed about the kinds of things she and her husband, Victor Zaderej, are doing lately. I interviewed him about their passive solar house in Oregon, Illinois a little while back. We also talked then about the annual Illinois Renewable Energy and Sustainable Lifestyle Fair, which is presented each year by the Illinois Renewable Energy Association.
When I went back to see exactly when we had last talked, I discovered that it was six years ago, in 2010! Hokey smokes.
Which means that they've had time to do a lot, like start their own LED light company, called Happy Leaf LED. Polly explains that the business was started
to sell commercial quality grow lights to consumers and small greenhouse applications.   We are targeting the 'modern homesteader' and master gardener audiences…Our lights are actually manufactured in the Chicago area, using German LEDs.    There are several unique features and technical details to these lights, many of which are detailed on the website.
Okay, so I went to the website to see the details and I discovered that
To encourage growth, most plants require approximately 200 micromoles per square meter per second of PAR. Keep the light approximately 5 – 8 inches from any plants that need to grow. Adjust as the plant grows. 
I get the second part. Not so much the first.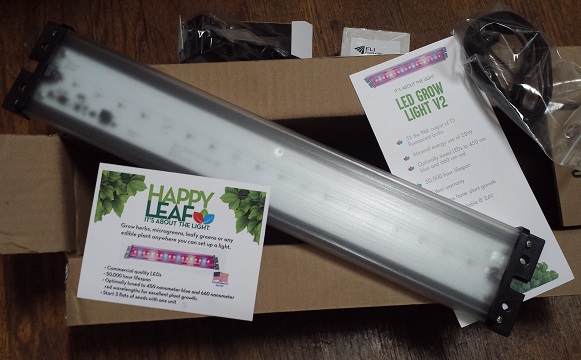 Mike's V2 LED Grow Light from Happy Leaf LED.
It worked–Mike is very, very happy!
However, that's why Vic is back on The Mike Nowak Show  this morning, to explain exactly why his LEDs are superior to others. He is joined by Josh Nelson, who is the Ag teacher at the Oregon High School.
He will be presenting at the fair about his efforts to combine renewable energy and food production:
Josh Nelson, Oregon High School Agriculture teacher, will discuss the Oregon High School off-grid greenhouse which will be tested for alternative planting and lighting options by students in his classes. The Illinois Renewable Energy Association donated the greenhouse. After experimenting with it for several years, IREA decided that it should serve an educational purpose in addition to testing the concept. Its use will tie into existing courses as well as new.
This summer, it was moved to the school site, set on a new foundation with earth sheltered space beneath, fitted with extremely efficient windows and equipped with new LED grow lights and solar panels to power them. Automated blinds will control the temperature.
The greenhouse, which was financed by grants and donations, might be the first step in an Off The Grid Greenhouse training center, where students experiment with new technologies for growing food.
It's all terrific stuff, and I'm pleased to have both Victor Zaderej and Josh Nelson on the show this morning. I hope I can keep up.