August 13, 2017 – Cultivating Resilience

Note from Mike:
I've been called away to Oklahoma for some family stuff this August weekend (where I'm hanging out this weekend and waiting for a 3.0 or better earthquake caused by fracking). Meanwhile, I'm handing the steering wheel of the cargo plane we call The Mike Nowak Show to the intrepid Peggy Malecki, who is bringing in her own sidekicks–not to mention excellent guests–for the weekend.
For Sunday's show, Peggy has reached out to our friend and mega-horticulturist Lisa Hilgenberg from the Chicago Botanic Garden, who will be in-studio to for the two hour version of the program.
Listen in! You're going to enjoy it!
Suburban Permaculture Redesign
This morning, we're pleased to welcome Michelle Hickey, co-founder and vice president of The Resiliency Institute (TRI), a Naperville-based non-profit organization with a focused mission: to transform Chicago's suburbs into resilient communities based around the concept known as permaculture. Through ongoing projects and education, the institute aims to inspire residents to become more resilient within their communities.
In an April 2017 interview on Naperville Community Television, Michelle and co-founder and organization president Jodi Trendler explained that at a basic level, "'permaculture' is used to describe a design system for developing ecological landscapes, lifestyles and communities. " The word permaculture was coined and popularized in the 1970s by Australians David Holmgren and Bill Mollison, and is a combination of "permanent agriculture" or "permanent culture."
According to TRI's website, "the suburbs were originally designed to be car-centric, resource intensive places for people to live and commute to work. This design has caused a dependence on oil and the automobile, transformed nature into pavement and buildings, and created a culture of stress and competition."
The Resiliency Institute's vision is "of suburbs where people are connected through strong social networks, foraging in edible forest gardens and food forests is a daily community activity, cooperatives of all types exist, social equity and justice are integrated, renewable energy is available to everyone, and so much more. Permaculture provides the ethics, principles, and design strategies to achieve these transformations, creating economically, environmentally, and socially resilient communities."
Food security is a growing concern in the suburbs, and TRI currently operates three ongoing projects to address the issue and build resilience through establishing edible food gardens. By teaching residents how to replace their lawns with food gardens, they hope to "restore eco-systems, grow food for people and animals and create nourishing communities that build resilience." Current projects include the Whole Food Edible Forest Garden, the Ferry Forest Garden and the Northern Illinois Food Bank Growing Food Security Garden.
TRI offers a variety of courses, ranging from one-day walks and workshops to ongoing classes and certificate courses, including the 2018 Edible Wild Plants Certification and Bioregional Herbalism Series. The organization hosts Permablitz events and potlucks throughout the year to educate, swap seeds and celebrate community at both the food forests and their headquarters, located on The Conservation Foundation's McDonald Farm, in Naperville. Michelle and Jodi both earned their Permaculture Design Certificate (PDC) through Midwest Permaculture, and have been involved in many environmental, recycling, green building and renewable energy projects.
The cure for the Summertime Blues. In the garden, that is.
If your garden is suffering a bit by now, you're not alone. Cool temperatures, sudden heat, heavy rains and flooding, dry spells and the usual collection of garden pests are doing their best to wreak havoc on some vegetable plants as well as ornamentals, trees and shrubs. Peggy and I have been comparing photos and notes, commenting about how some of our tomato plants (hers close to the lake in the 'burbs and mine in Logan Square) are showing various signs of distress while other are happy and producing lots of tasty tomatoes.

So it's quite timely that Peggy and Lisa start our second Sunday hour with a discussion of what's happening in the August garden. Expect to hear tips for late summer plant care, keeping the harvest going and a potpourri of other related topics. And yes, they will definitely talk about tomato plants, including what Lisa is seeing happening with the tomato plants at the Regenstein garden.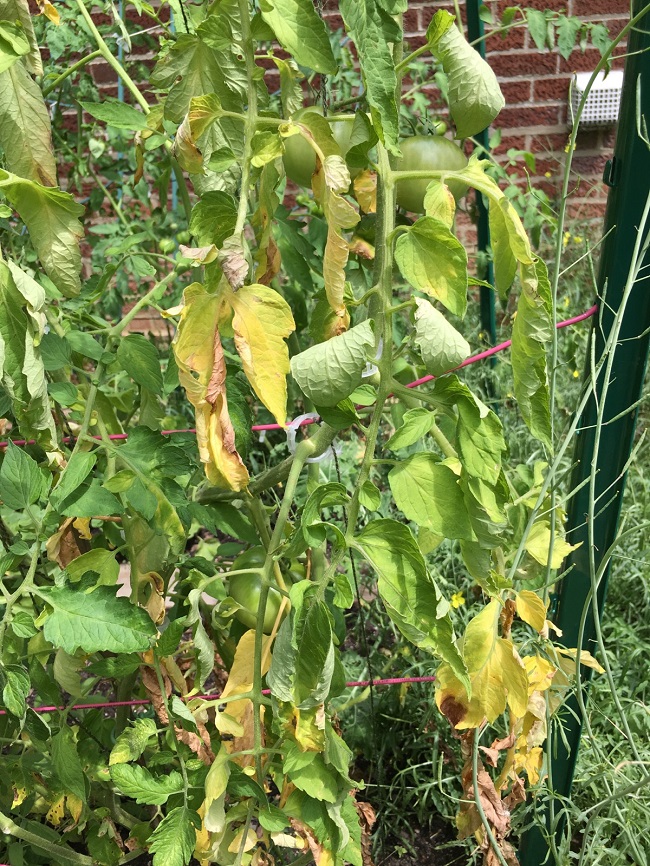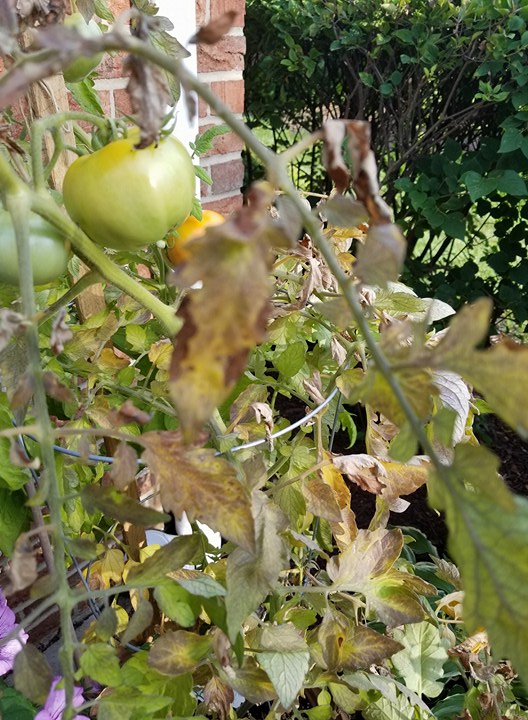 Speaking of tomatoes, here's something to put on your calendar. The Chicago Botanic Garden's annual Heirloom Fest: Tomatoes & More is coming up Saturday and Sunday, August 26-27 from 11 a.m. until 4 p.m.in the Regenstein Fruit & Vegetable Garden. It's going to be a regular Tomato-palooza of programs, activities and information focused on growing and using heirloom tomatoes—including garden tours, seed saving demonstrations, the weekend Garden Chefs Series, tomato and food products for sale and plant giveaways.
And if you need another reason to stop by the Chicago Botanic Garden that day, The Mike Nowak Show will be broadcasting live from the Regenstein Fruit and Vegetable Garden from 9 to 11 a.m. in the lead up to the Sunday festivities for Heirloom Fest.
But it's not all about the veggies, as ornamentals, trees and shrubs are seeing their share of pests and weather-related issues as well.
Chris Beiser, a Plant Care Specialist for the Chicago Botanic Garden, joins Peggy and Lisa to review what he's seeing in the Garden's collections and offer suggestions for our yards as well. Chris is responsible for the diagnosis and management of pests and diseases for trees, shrubs and perennials in the ornamental plant collection, using integrated pest management to prevent and treat disease and pests. Chris says he also is helping the Plant Health Care department transition to a digital records system, develop an Emerald Ash Borer management plan and work on the tree risk assessment inventory. He's a busy guy, and we're happy that he's joining us this morning.
One of the great free resources we've mentioned on the show, and one which Chris says he refers to regularly, is the University of Illinois Extension's Home, Yard and Garden Pest Newsletter. It's free and you can sign up for your very own copy to be delivered weekly to your inbox, as well as search a comprehensive collection of past issues. As of their August 1 newsletter, current issues affecting the area include sryphid flies, chinch bugs, fall and mimosa webworms and powdery mildew on herbaceous ornamentals.
According to Chris, "we are seeing a lot of what we refer to as 'late summer stress', essentially the buildup of a lot of smaller fungal, insect and water stress issues that cause plants to look ragged and tired…Additionally, we've had a very wet summer, which will exaggerate the fungal issues by this time of the year. Rusts on hawthorns and crabapples are particularly bad at the Garden right now, but this is mostly cosmetic and there aren't any corrective actions to take to solve the problem this year. Most fungal treatments rely on preventive treatment to solve the issue."
Late August also means it's the time when yellow jacket wasps typically get more active as they prepare for winter. According to Wikipedia," yellow jackets are social hunters living in colonies containing workers, queens, and males (drones). Colonies are annual with only inseminated queens overwintering." By late summer, the colony reaches "a maximum size of 4000 to 5000 workers and a nest of 10,000 to 15,000 cells."  That's a lot of mouths to feed, and by late August, wasps may aggressively seek food from both natural sources as well as human garbage, picnics and soda cans. Chris says he's seen "a lot of misinformation out there about wasps" which are also beneficial insects in the garden, and he'll offer some thoughts about control and prevention options for wasps.
Phew! We've got lots to cover this morning, and the two hours are going to fly by. Get your pen and paper ready to take some notes, and call 847-475-1590 with your questions for Lisa and Chris. And if you miss something, be sure to come back later this week and download the podcast (even if you don't miss something, you'll still want to listen again to the podcast).