April 8, 2018 – Siting compost, sighting endangered species

Compost controversy in unincorporated Cook County
A few weeks ago I received an email from Ron Cowgill of Mighty House Home Improvement Radio, which you can hear on 1590 WCGO Radio just before The Mike Nowak Show. He had just received an email from neighbors who were concerned about a proposed commercial compositing facility at the former Sexton Landfill Site across form Oakton Community College in Cook County.
Ron wasn't particularly concerned about the situation, but he was curious about whether such a facility could cause obnoxious odors in the community. I told him I thought that if the composting were done properly, there wouldn't be a problem, but that I would check it out.
That issue arrived on my doorstep this week when I received another email, this time from a guy named John Lardner, who I have met a couple of times, who told me about
a project that a partner and I are proposing. It is to establish a landscape waste compost facility that will accept food scrap that will be located near Glenview, Illinois at a closed landfill owned by Catholic Cemeteries of the Archdiocese of Chicago. The attached brochure explains the Patriot Acres project. The vote for approval of a special use by the Cook County Commissioners to  allow composting is expected to be held late spring of this year.
You may have seen or read in the news that there has been some vocal push back from local uninformed residents and we have scheduled community open house meetings on April 10th at Oakton Community College from 6:30-8:30pm and on April 14th at the Mt. Prospect Library from 5-7pm to explain the merits of the project. You are welcome to attend.
When John says "vocal push back," he is being a bit understated. But I will get to that. Meanwhile, I will start with a brief explanation of Patriot Acres and what it hopes to accomplish. It's a 25-acre facility on a 167-acre parcel in unincorporated Cook County along Central Road. They say that
The facility will accept landscape trimmings, food scraps and selected organic discard materials for recycling into high quality compost. The convenient location, in close proximity to arterial roadways for generators of food scrap, will allow collection vendors to recycle this material in an economical manner compared to disposal at landfills. The compost will be marketed to landscape contractors, companies that blend and bag for retail sale, golf courses, municipalities, farmers, cemeteries, urban gardeners, greenhouses and other users within the horticulture and agriculture industries.
What does Lardner know about composting? His biography states that he
is a professional engineer with over 30 years of experience in the solid waste field of which the last 10 years have been focused on design and permitting of organic material compost facilities. He is a sole practitioner owner of JPL Environmental Engineering and has been recognized as a Certified Compost Systems Manager by the Solid Waste Association of North America
His partner is Matthew L Smarjesse, who owns a company called ADBI Enterprises in Glenview, Illinois. He says he has done commercial, residential and utility development work, as well as composting business, with clients like USEPA and Exelon (ComEd).
Which takes us back to the "vocal push back." A lot of it is coming from a group called Citizens vs. Patriot Acres, which claims that the project
is an environmental disaster waiting to happen and a public nuisance in the making, one that promises to impact thousands of people for miles around.
Part of their opposition comes from Brian Critchlow, who says he was the former site manager for a company called Nu Earth Organics, which ran an operation in Waukegan, Illinois. He makes arguments against the aerated static piles, the porous compost pad and the detention ponds. In the end, he states,
Don't get me wrong. Composting is an awesome business that creates high quality nutrients for our lawns and gardens by reusing organic materials that would otherwise flow into our landfills. It benefits everybody.
Interesting. He's already making my case for me. But he continues:
But not on this scale. And not on this site.
Patriot Acres responds to his arguments by saying that
There is little similarity to the Nu Earth compost facility location, layout, operation and odor control plan when compared to Patriot Acres. The ratio of property size at Patriot Acres will initially start out at 4,000 cubic yards per year per acre and gradually increase to 8,000 cubic yards per year. This volume can easily be handled without creating cramped operating conditions that encourage short cuts. This is much less than the 17,000 to 28,000 cubic yards per acre at Nu Earth.
On March 15, the Cook County Zoning Board of Appeals approved the proposed 25-acre compost facility. It was then that the community started to push back. In response,  Patriot Acres announced that it would hold off on its proposal and hold public meetings to give the community details on how the facility would be run. At the same time, Cook County Commissioner Peter Silvestri (R-9th), announced that he would recuse himself from discussing or voting on the proposal because of his connections with a law firm involved in the process.
That's just scratching the surface of this debate. Let us just say that John Lardner from Patriot Acres is on the program this morning, along with Ron Cowgill from Mighty House. Let's see if we can calmly discuss the issue.
Saving endangered species…as images
What do you do when you're a photographer, self-professed lover of nature and live in a state that has 483 threatened and endangered species? You photograph them all, of course, and our second segment guest, Glenview photographer Carol Freeman, is on her way to do just that.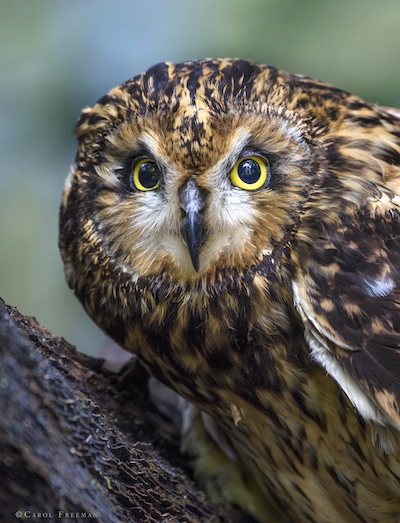 In 2004, Carol launched The Endangered Species Photography Project. She set the goal to capture and archive images of Illinois's fragile eco-system and the various species of animals, insects and plant that are struggling to survive. So far, she says, she's about a third of the way through the list.
Photos from this project have been featured in many publications and media, including Chicago Wilderness and Outdoor Illinois magazines, on WGN-TV news' Chicago's Very Own and WTTW's Chicago Tonight, this past January in the Chicago Tribune, in April's issue of Natural Awakenings Chicago magazine, and most recently, in April 7's Daily Herald (to name but a few). Carol also photographs at-risk species for the Chicago Botanic Gardens' The Plants of Concern project, and her images are seen in marketing pieces for many local organizations.
Through her work, Carol says she's creating an archive of some of the most fragile species in Illinois. We'll get a chance to see many of her images in an upcoming exhibit running April 23 – June 5 at the Brushwood Center at Ryerson Woods, in Deerfield.
Carol shoots amazing photos, yet it's her stories of how she took these photos that help bring their significance home. As sponsors of last fall's Chicago Wilderness Congress, Peggy and I were exhibit table neighbors to Carol, and spoke with her at length about her photographic adventures. When we saw her again at February's Wild Things Conference and heard of her upcoming exhibit at Brushwood, we knew we had to book her on the show.