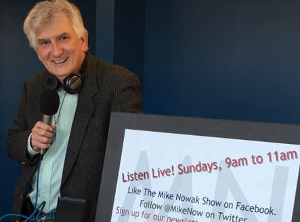 Special Holiday Podcast (12-20-09):
It's a Wonderful Slice of
'It's a Wonderful Life'
Mike does the entire movie in about 12 minutes.
Producer Heather Frey plays Mary and special
guest star, radio show host Scott Austin joins
the festivities. Oh, yeah. There are a few WCPT
characters in the background singing
"Auld Lang Syne." I don't know how they
got into the studio. Honest.
Podcast Home | Podcast Archive

Mike Nowak Show Podcasts feed:

Copy the feed link and paste it into your aggregator



Want to browse the site while you listen to the podcast?

 

 

to open the rest of the site in another window.


The Mike Nowak Show Podcasts

The entry page for audio files of Mike Nowak's full shows on WCPT Radio, Chicago.

If you missed a show or just want to browse through some past shows, here they are, in their entirety. (Since this is new, we're working out the bugs. If you have any complaints, comments, or suggestions email the webmaster. Please.)

Humor

Subscribe to this category

Subscribe to this category with iTunes




Mike welcomes Chicago singer-songwriter Susan Werner to the studio on the verge of a national tour to launch her new CD, Hayseed.



Mike talks to a naturalist about the recent bee massacre in Oregon and how to create habitat for solitary bees. Then, singer-songwriter Susan Werner stops by to perform works from her new CD, Hayseed.



Mike talks about a family volunteer opportunity at the end of September for people in the Chicago Wilderness region, then talks to author Amy Stewart about her upcoming appearances in Illinois and Michigan.



Representatives of three herbs--basil, chamomile and cilantro--debate their worthiness to be voted as plant of the year for Chicago.



Mike enlists the aid of Producer Heather Frey, Our Town host Mike Sanders and Mighty House host Ron Cowgill to help him with his annual performance of the classic holiday film.



Author Amy Stewart talks about her new book, Wicked Bugs: The Louse that Conquered Napoleon's Army & Other Diabolical Insects.



Mike and producer Heather Frey talk about the holidays and review some of the gardening and environmental stories that fell throught the cracks this year.



Mike Nowak, producer Heather Frey and listener Jim Solum perform a ten-minute version of the classic holiday movie.



After Mike talks to Maria Anna Rafac and Jeanne Phelan about sustainability efforts at Joliet Junior College, the Frozen Robins enter the studio and skewer mayoral candidate Rahm Emanuel in song. Mr. Brown Thumb provides some needed substance.