Mike Nowak has been the Chicago radio voice of gardening and the environment for
more than thirteen years. First at WGN Radio and now at Chicago's Progressive Talk, he has informed and entertained his listeners about everything from bugs to battery recycling,
from energy audits to echinacea.
Check out the website, but more important,
check out "The Mike Nowak Show."
CALL-IN PHONE NUMBER
773-763-9278

Sunday from 9 to 11am
WCPT 820AM and 92.5FM, 92.7FM, and 99.9FM
"One of the five shows we're listening to"
Garden Design magazine"
Listen Here!
Click here for live streaming!
Sunday morning, 9-11 CST
Or listen to these special segments from past shows.

How Do We Save the Iconic Monarch Butterfly?
Chip Taylor is the founder and director of Monarch Watch. He talks about the recent decline of the monarch butterfly due mainly to habitat loss, pesticide use and government policies that encourage ethanol production, and how there will need to be a massive effort to plant milkweed if we hope to save this iconic species.
Listen Here.

Connecting Veterans to the Land at Blue Yonder Organic Farm
Sara Creech established Blue Yonder Organic Farm in Indiana, and Alicia Moore soon joined her as a partner in the enterprise. Both are military veterans who want to help other veterans find work and a sense of peace. They are the first Indiana farm that is part of the rapidly growing Homegrown By Heroes initiative, and they talk about their efforts with Mike.
Listen Here.


Improving the Soils in Our Cities
Distinguished soil scientists Sally Brown, Research Associate Professor at the University of Washington, Rufus Chaney , Research Agronomist for the USDA, and Ganga Hettiarachchi , Associate Professor at Kansas State University, talk about contaminants in our urban soils and the potential for remediating them, including with biosolids.
Listen Here.


What's REALLY Happening
to Our Bees
Some of the most knowledgeable people in the country explain what's causing the disappearance of our bees. And it's not just neonicotinoids. This is the best discussion of the problem that you've ever heard or read. Listen Here.

What's the Big Deal about Native Plants?

Charlotte Adelman, co-author of The Midwestern Native Garden, goes beyond and cliches and oversimplifications and explains just why native plants make for a better, more life-filled garden.
Listen Here.

Making a case for life

Doug Tallamy talks about his book, Bringing Nature Home, How Native Plants Sustain Wildlife in Our Gardens. A caller to the program conveniently illustrates the difficulty home owners have in identifying native plants, and Tallamy describes his project to identify which birds consume which insects. Listen here.
Click here for Mike's "Three Minutes to Save the Planet" list

Check here to learn about book events.
Read all about Attack of the Killer Asparagus,
and order your own copy,
at Around the Block Press.


Mike will be doing another remote broadcast from the
Green Metropolis Fair. Click for more information.
Next Event . . .

September 20 - 11:00 am to 2:00 pm
Lurvey Landscape Supply & Garden Center
847-824-7411
Stop by at 10am for a Fall Container Class. Create a bright, beautiful
fall container using cool weather annuals for your porch, patio
or balcony. Then head over to the author's table where Mike will be signing copies of his book.
About 600,000 blue carts have been rolled out in Chicago. And yet, the City's recycling numbers can best be described as a work in progress.
Are you happy with recycling in Chicago? Help the Chicago Recycling Coalition understand your views on how the city is doing with recycling and yard waste pick-ups by participating in their Recycling Survey .

Please take 3-4 minutes to complete the Recycling Survey . Your answers will help the Chicago Recycling Coalition and Chicago's recycling community push for new and better recycling policies throughout Chicago.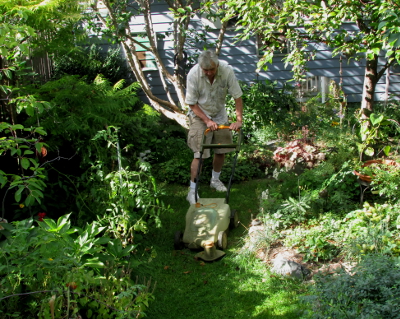 Mike mowing his "lawn."



Why they call them morning glories . . .

Participate in the show:

or email mike@mikenowak.net
Today's jam-packed show is broadcast live from the Green Metropolitan Fair Fall Harvest at Lake View High School in Chicago at the corner of Ashland and Irving Park. Mike talks to folks who are part of the fair, including 47th Ward Alderman Ameya Pawar, Erin Yanz from the Nature's Creatures Animal Show, Green Diva Lynn Hasselberger, Ron Cowgill from WCPT's Mighty House Home Improvement Radio Show and Allen Lawrance from the Peggy Notebaert Nature Museum.
Click here for links to our sponsors.
We love our sponsors and we'd appreciate it if you showed them some love, too.

Rick DiMaio Weather
"The Mike Nowak Show" features a regular weekly weather segment with Chicago meterologist Rick DiMaio. Click the pic for Rick's website.


Get the Mike Nowak email newsletter
Check out Mike and other great garden speakers.
Check out all of Mike's talks on the
Talks and Presentations page.
.
Chicago Green Events Calendars!
If you want to know what's going on in Chicago's green community, from local food to fighting the man on coal-fueled power plants, these sites will give you the skinny, the scoop, the . . . whatever
Top Green Talk Show Hosts
"Let's take a look at our top 5 green male talk show hosts on radio. Of course, there are others worth noting, but these ones will surely get you hooked on listening to green tips, news, and other ecological concerns. These talk show hosts are not only wildly entertaining, but they are also intellectuals who know theirgreen stuff. . . .

Mike Nowak's one of the best environmental hosts that you will find."